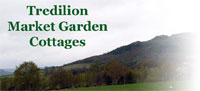 TREDILION MARKET GARDEN COTTAGES
Directions
From the roundabout where the A40, A4042 and the A465 meet, take the A465 HEREFORD road. Follow the road for about 2 miles, then take the road sign-posted SKENFRITH (B4521).
Follow this road until it meets with the B4521, turn left onto the B4521 SKENFRITH road by MAINDIFF COURT HOSPITAL.
Stay on this road for about 0.5 mile and you will see a road sign-posted for MONMOUTH on your right, turn right onto this road and follow it for another 0.5 mile where you will see a sign for MONMOUTH.
Bear left and on your left you will see a drive-way and a large sign saying TREDILION MARKET GARDEN.
Follow this drive-way and you will come to the main farmhouse and holiday cottages.
If you have any problems, please do not hesitate to call us on (01873) 852528 and ask for DEAN or CLARE.
The key to your cottage can be obtained from the main farmhouse.
Google Map